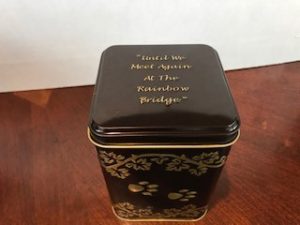 With Group Cremation, your pet will be cremated along with other pets.  The ashes will not be returned to you, but are instead disposed of by Wheeler Petuary.
Paw Prints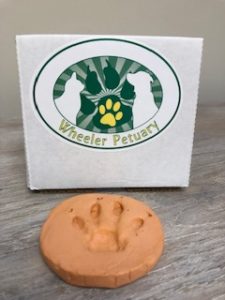 In addition to our Crematory Services, we offer Paw Prints of your Pet.
Terracotta Clay – $20.00 + tax
Book Paw Print – $35.00 + tax
Additional Products

We have a full range of Pet Memorialization Products, including decorative urns, pet caskets, and markers.  You can view our additional products here.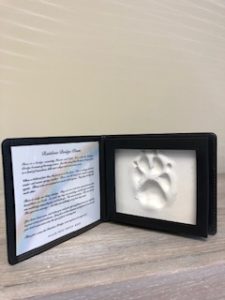 Transportation Information

Involving Our Veterinary Partners
Transportation of your Pet from one of our Veterinary Partners – FREE
Returning the Ashes of your Pet to our Veterinary Partner – FREE
From a Pet Owners' Home
Transportation from a Pet Owners' Home is available by request Monday through Friday from 9 am to 5 pm.  Pricing is dependent on the distance from our office to your home. Please contact us at (470) 205-3000 for pricing."